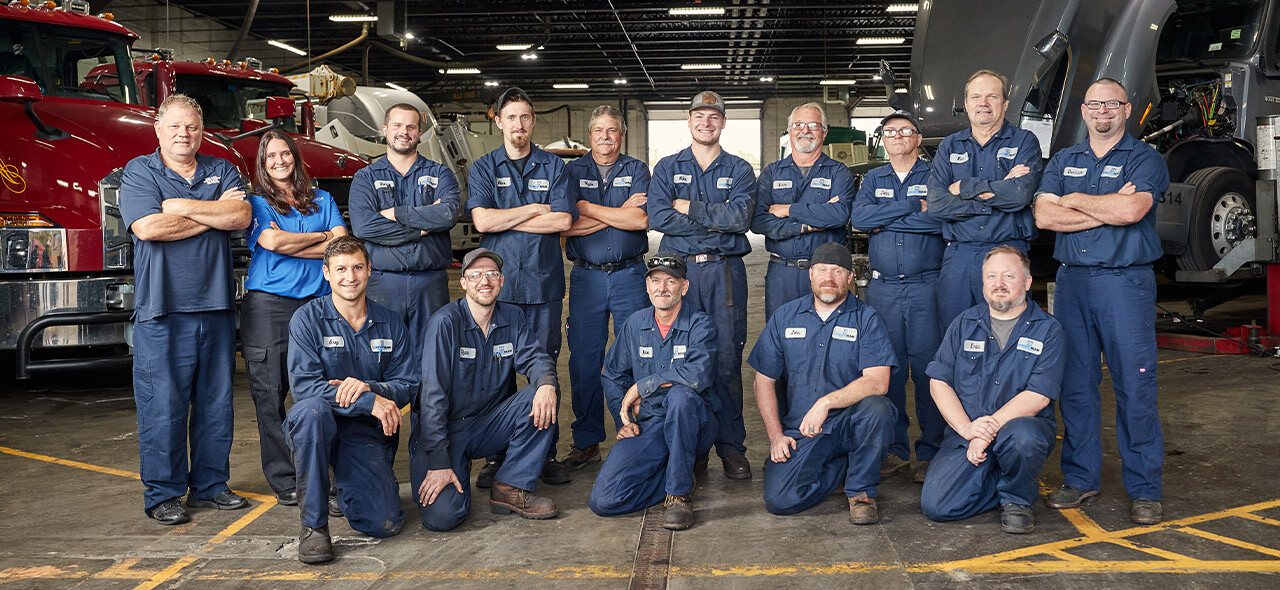 Conway beam
Build Your Career
Play a critical role in the automotive and transportation industry while enjoying a sustainable work/life balance.
We Are Committed to Your Success
Are you ready to take your career to the next level? As a member of the Conway Beam team,  you have the opportunity to learn new skills, working with sophisticated systems and equipment in a high-technology environment. Continuous training is the norm here, with plenty of options for growth and advancement. You will be part of a multi-skilled team, earning competitive wages and enjoying a comprehensive benefits package—and we make work/life balance a top priority. Plus, our employees work in a clean, safe environment, just as they have throughout our 70 years of family ownership.
Now offering up to a $4,000 sign-on bonus for Technicians!*
Our superior commitment to our customers, along with NationaLease capabilities and full Mack and Volvo dealership access, affords training and room for advancement for the appropriate candidates. We don't just lube-and-go; we repair all equipment at our facilities. We are willing to train the right motivated candidate from the ground-up, and further develop your existing skillset to become a certified Master Technician!
* Bonus based on experience.
Qualifications
High School diploma, GED or equivalent combination of education and experience
Valid driver's license
Reliable transportation
Ability to work assigned shifts (shifts vary by facility and company needs)
Ability to work independently, as well as part of a team
Must have basic mechanic's tool set
Preferred Qualification
2 years experience in Truck/Trailer mechanical field or related discipline
Vocational or Technical Training in Auto/Diesel Technology field
ASE certifications
New York State Inspection Certificate
Commercial Driver's License (Class A or B)
Job Description
Comply with federal (OSHA), state and local regulations governing safety and hazardous materials, if applicable.
Routine Maintenance to include general service oil change, lubrication and keeping your eyes open for potential mechanical failures
Perform vehicle diagnostics, repairs and maintenance on heavy duty trucks and equipment, according to company standards for labor times and customer satisfaction.
Ensure warranty claims are properly documented and submitted
Read, comprehend and utilize diagnostic service equipment necessary for proper diagnostic procedures and outcomes
General knowledge of electrical, air brakes, chassis, cooling and all other systems related to the heavy duty trucking industry
Compensation & Benefits
Our highly competitive compensation and benefit plans include:
Health Insurance with Company Contribution
Dental Insurance
Vision Insurance
Life Insurance
New York State Disability Insurance
401(K) Retirement Plans
401(K) Company Match
Paid Training
Paid Time Off
Holiday Pay
Referral Program
Special incentive programs
Conway Beam
Technician Positions
Is your calling to become a Master Technician? Then, you owe it to yourself to explore the opportunities for talented technicians at the Conway Beam Truck Group. Just imagine being part of a team surrounded by supportive mentoring colleagues who share their knowledge and collaboratively solve problems as a team. Becoming a master technician requires a professional work environment, the ability to attend advanced training, and the opportunity to achieve continuing levels of certification. However, having the opportunity to work with an extensive variety of trucks, buses and specialty vehicles is also critical to becoming a successful technician.